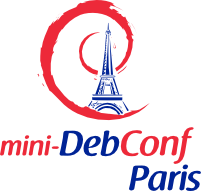 What is the Mini-DebConf Paris ?
Mini Debian Conference
The Debian France Association is organizing the second Paris Mini-DebConf. This event will welcome everyone with an interest in the Debian project for a series of talks and workshops about Debian. Allowing users, contributors and developers to meet each other is also one of the main goals of this event. We are especially looking forward to meeting Debian developers from around the world.
Schedule
Saturday (Nov 24)
Sunday (Nov 25)
Mini-DebConf Paris in 2012
The Paris Mini-DebConf 2012 will be held at EPITA, Paris, France, on November 24 and 25.
Location
Rue Pasteur, le Kremlin-Bicetre (Very close to Paris) OpenStreetMap.
Getting there
subway: line 7 "Porte d'Italie" station (5 min walk) buses: lines 47, 125, 131, 185 "Roger Salengro" stop (5 min walk), line 186 "Pierre Brossolette" stop (5 min walk); see the official access map for more information.
Register
For logistic aspects, please register on the Wiki page.
Couching
If you're looking for a crash space in Paris, some other participants offer a room, a bed or a couch on the Debconf Wiki here .
Sponsors
Logo
A huge thanks to Valessio S Brito for the official logo.
Many thanks to our infrastructure sponsors: